I was looking through one of the million bridal magazines (I know, more bridal stuff!) that I am rapidly collecting the other day and came upon a unique ring idea that I thought was very fitting for my (or your!) vintage wedding.  Now, usually I don't read to many of the articles in these magazines because I tend to just get entirely to overwhelmed with ideas and end up confusing myself.  I sort of only buy the magazines for the pictures! Is that bad of me? Anyway, I happened to glance over a particular article discussing ring bearer ideas and my eye was caught by a pair of antique ring boxes.  Interest was definitely peaked, so naturally I began to investigate.   And I was stoked with the information that the writer was giving me!  Her uber-creative idea for a vintage wedding was to put the wedding rings in antique/vintage ring boxes and have the ring bearer carry these down the aisle to the bride and groom.  Even cuter was the idea to put these ring boxes on a piece of crumbling brick or rustic wood to complete the vintage look.  I thought that this was such a creative twist on the traditional ring on the pillow get up and very fitting for my personal style.  Truthfully, my wedding isn't exactly conventional by any means and it's fun to put my mark on even the smallest of things!  So, with this in mind I am on the search for some one-of-a-kind ring boxes!!  Check out some of the ones I've already found! (And ladies these shouldn't just be used for weddings!  Stuff your own fabulous jewelry in them!!)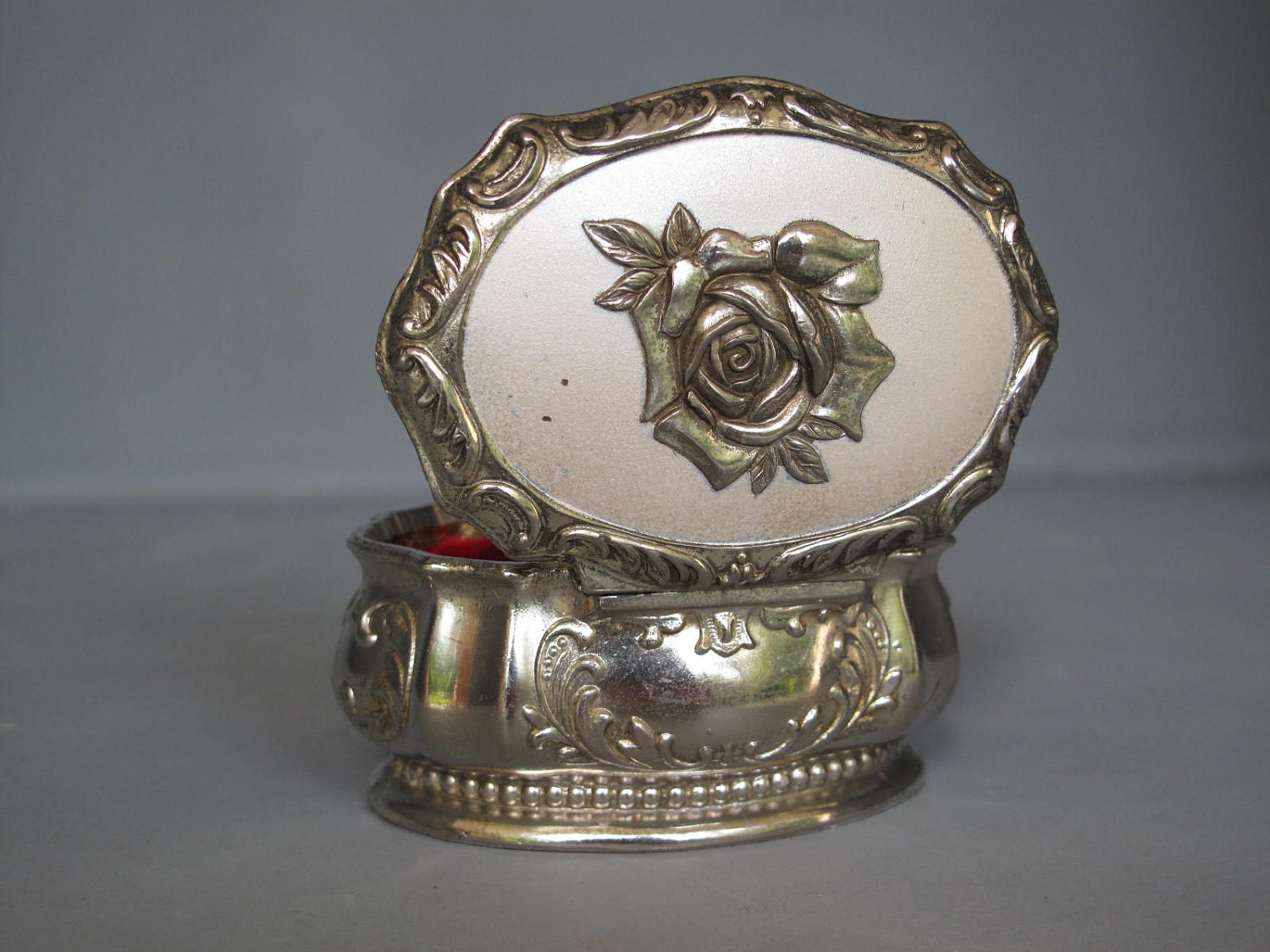 What caught my eye about this little trinket is the beautiful raised cabbage rose against the white hinged lid.  Not to mention the delicate raised scrolls that line the silver metal box.  So romantic and lovely.  An award winning combination that oozes vintage and immediately captures the imagination. Perfect for storing wedding rings in!  Or any of your favorite rings!  Vintage Ring box is from the 70s and supplied by MikasTreasures.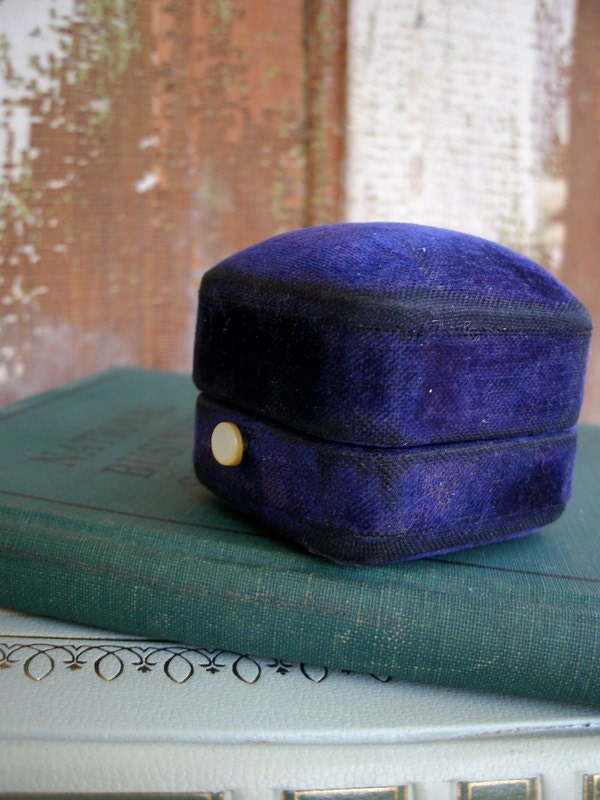 A true gem. This Antique Blue Velvet (yes, velvet!) Ring Box dates to the early 1900's where it used to hold a very special ring. Talk about a dream!  Imagine housing your jewelry (or wedding rings!) in a piece of history where over a hundred years ago it was used to profess one's love for another.  ::Sigh:: Yes, I know, super mushy.  But, besides the history, just look at it.  Deep blue velvet,  satin interior and a dainty Mother of Pearl open/close button.  How can you not fall in love with it! (From VintageBroad)

I love how this Vintage Silver Ring Box from AntiqueCombray has a turn of the century feel to it, but is modernized by the addition of a brown gemstone top.  From the 80s, it appeals to that antique/vintage enthusiast who likes their collectibles with a punch of eclecticism. I know I do.  And while it's easier to put a twist on clothing, sometimes it becomes a bit more challenging when doing it with accessories.  But, fortunately with this punkster ring box, no work need be done! Just enjoy!

If you love anything having to do with the 60s, then you will be enamored with this Vintage Ornate Ring Box from SellOriginals.  My favorite thing about besides it antique hue and intricate floral design?  The heart.  It adds a whimsical character to the already personable box.  Not to mention the delicate dotted outline which makes your eye draw immediately to the box.  I also think the legs are adorable and definitely unusual!  It reminds me of antique bathtubs with the clawed legs!  Another fun fact? This box is lined in old red felt. Very fitting, don't you think?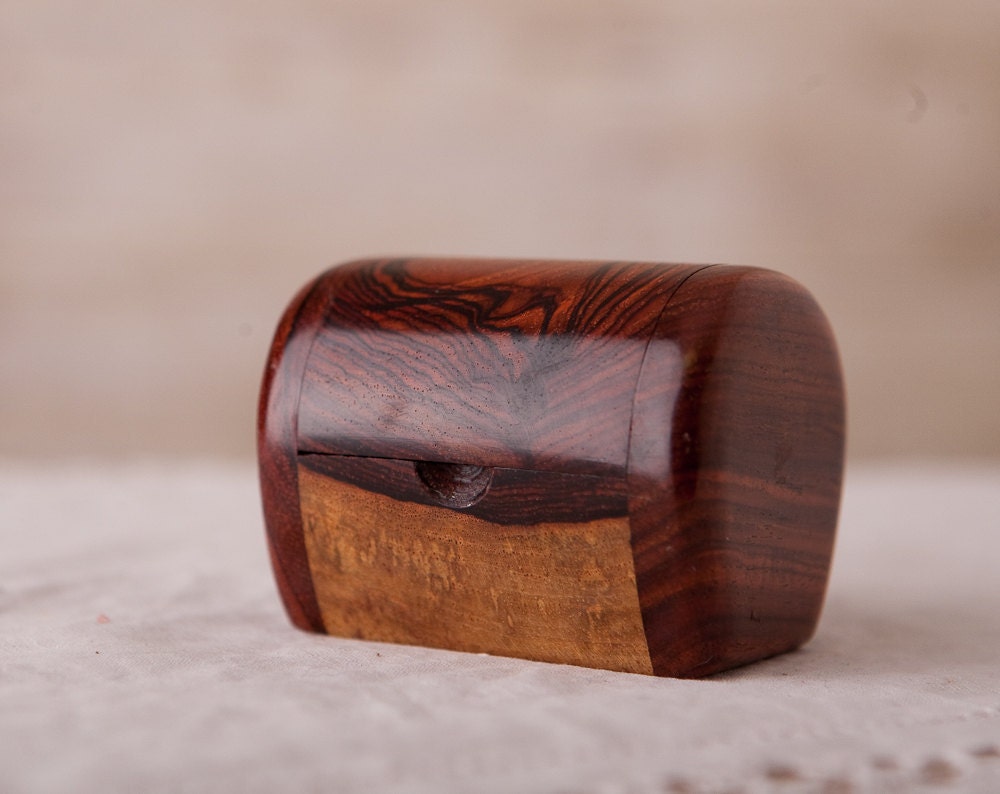 Unique.  That is probably the best word to describe this Wooden Jewelry Box from WillowontheWater.  Artfully crafted from two different pieces of wood, this ring box was made in the 1970s and has a smooth, glossy finish.  I love that it looks like a treasure box, considering that you are putting your own "treasure" in it.  So cute!  Perfect gift for the friend who loves a more modern approach to vintage!

Another amazing gem kept alive and well from the 1930s.  This Antique Mosaic Ring Box from HappyMoonDesigns was handmade in Italy.  Which, judging by the intricate mosaic design, you could have guessed on your own!  It was the mosaics that drew me to this one-of-a-kind box. I've never seen anything like this before and coming from someone who owns a ton of jewelry (and jewelry boxes) that says a lot!  It may be that work like this just isn't done anymore or just the fact that it may only be done in Italy.  Whatever the reason, this box is a unique find and if I were you, I'd pick it up real quick!