It's summer dress time ladies!! It has been so hot lately, at least where I live!, that I have been kicked into high gear in finding those perfect summer frocks! And I'm sure that you are beginning to feel the same way!  You know, you hit that point in time during the year where it becomes VERY obvious that you need to start thinking about revamping your summer wardrobe.  And, of course, nothing that you had last summer suffices! Isn't it so frustrating?!  But, then again, the shopping can be uber fun if you know what you're looking for.  For me, that's vintage!  Luckily, I have a fairly decent amount of fabulous vintage shops at my disposal, so it makes it super easy to search for my summer essentials.  Take a look at a couple of vintage delights that I found! Maybe you'll find something that you can't live without!

I am in love with this Asymmetrical Vintage 90's Dress from  Bustown Modern!  It helps that this black and white grunge dress has a polkadot pattern, as we all know that this circular pattern is my favorite!  So, just by the pattern it has a special place in my heart! Also, I love the way the this dress is draped and the juxtaposition between the high, clean raglan neckline and the fishtail design of the bottom half.  So sexy without being in any way obscene!  I would definitely wear this dress with a pair of Jeffrey Campbell Pixie Cut Wedges! How cute would I look?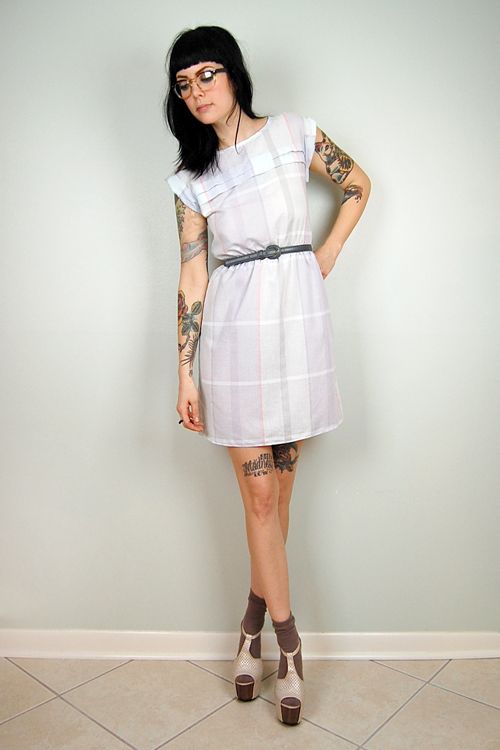 How adorable is this Vintage 80's Plaid Mini Dress at NoirOhio Vintage?  I love the large plaid print and especially love the cuffed sleeves.  This dress almost seems like it should of been in "Grease" being worn by the Pink Ladies! It says, "Don't be deceived by the dress, I'm one tough chick!" Isn't it awesome when you're wardrobe talks for you?!  Would totally sport this with my Black Jeffrey Campbell Brit Boots or maybe even my Brown Leather Knee High Frye Boots.  And perhaps add on this Vintage Studded Leather Jacket from GirlOnAVine?  I'd say that's one hellish outfit!
The second I saw the thumbnail of this dress on Thriftwares Ebay page, I had to click on it!  Something about the pattern immediately caught my attention and when I discovered that this Vintage 80's Tribal Mini Dress had deep pockets, I was sold.  Not to mention the very flattering cinched waist, the high neck and the sexy peep open back that could definitely keep you a few degrees cooler than others as you strut down you neighborhood streets in mid-summer.  Pair with some vintage flats from Santoki Vintage and you'll be good to go! Simple, yet dreadfully and irresistibly cute!
It was so hard for me to pick a favorite piece from my favorite Ebay shop TinRoof Vintage, but I think I picked a good one! This Vintage 70s Strapless Peach Dress is unique by nature and in excellent condition.  I adore the sweet nude color of this striped dress and the carefree feeling it exudes.  With an elastic waist you can be sure in the security of the garment and adorned with a belt it just ups the ante of this perfect summer dress.  For me, I would just throw on a pair of my Rainbow sandals and be on my way! No need to get crazy with footwear for a stroll on the beach!
This dress reminds me of something that Twiggy would have sported in the 1960s!  This Vintage 1960s imitation 1920s Flapper Dress at Stuck on Vintage is for the spunky and vivacious at heart.  I love the drop waist detail on a dress.  It's just so sweet and it gives the garment such an unique and distinctive look; which is a prime reason why I love this dress.  And with its dainty multicolored stripes, this vintage dress screams for attention.  As I am sure that whoever buys this piece of loveliness will not only make heads turn with her individualistic sense of fashion, but will definitely be hearing from many a fashionistas, "Where did you get that dress?!" to which you can reply, "It's vintage!" and chuckle to yourself, "And you can't have it!" Isn't it fun to be different?
I am obsessed with the poet sleeves on this Vintage Floral Boho Mini Dress at Out of a Strobe Vintage!  I just love the volume that they add to the dress and how dramatic it makes it look! (Since I am an actor, lets just say I love that drama!) The floral print on this vintage delight is also quite delectable!  I love the mix of the blues and yellows against the sheer black of the dress.  Almost gives off a pixie vibe with the mini bottom!  No need to over accessorize with this one!