So, I have had a recent life-changing event and am finding myself totally engrossed with it! It's not a baby if that's what you're thinking!  No, I actually just got engaged to my high school sweetheart! And I'm so excited to start planning my wedding.  Truthfully I wasn't the little girl who had fantasies of what her perfect wedding would be like one day.  I was more of the type who was busy climbing trees, making forts and chasing frogs in the creek.  But, now that it is happening to me I find that my head is overloaded with an ambush of ideas! Almost to many actually! I don't know really where I should even start.  I do know, with help from my fiance's sister who just got married, is that the first thing I have to do is attack where and when I want to get married.  When is easy.  Fall!  I adore the fall! Crisp with a cool, yet warm breeze, open fires and vibrant colors. Yummy.  Where? Not so easy! I swear the day after I was engaged I was looking at every possibility! I knew I wanted to get married outside and I was trying to think of an unique place to do it.  Finally after painstaking research and appointments I discovered Magnolia Plantation.  I'm not going to bore you with the details, but let me tell you, it's fabulous! (I'll put a link to it at the end of this post!)
Anyway, this is where the when comes back into play and where it becomes a bit more difficult and frustrating.  In a perfect world as a bride, I could name a date and time and all would be well.  In reality, not so much.  What the venue has left is what you get and it's not always the date that you had in mind.  I mean brides are lining up a year and a half in advance for venues!  Am I supposed to wait 2yrs to get married so I can have my perfect date?  And that's what you have to ask yourself.  Wait or bite the bullet and pick a date that has the best potential.  And that's what I did.  I debated, I paced and finally after HOURS of constant back and forth I decided on a date!  Let me tell you, at the moment you finally decide a weight is lifted from your shoulders!  And you realize that it's not the date that's important, but the fact that you're getting married to your best friend. That sounded a little mushy didn't it? 🙂
In honor of my date and of all dates big and small, I thought it would be fitting for me to search out some unique calenders.  With all the important dates that we set out for our days, don't you think the calender we put them on should be just as fabulous?  Check these out and I think you'll see what I mean! (BTW thanks for listening to my rant!)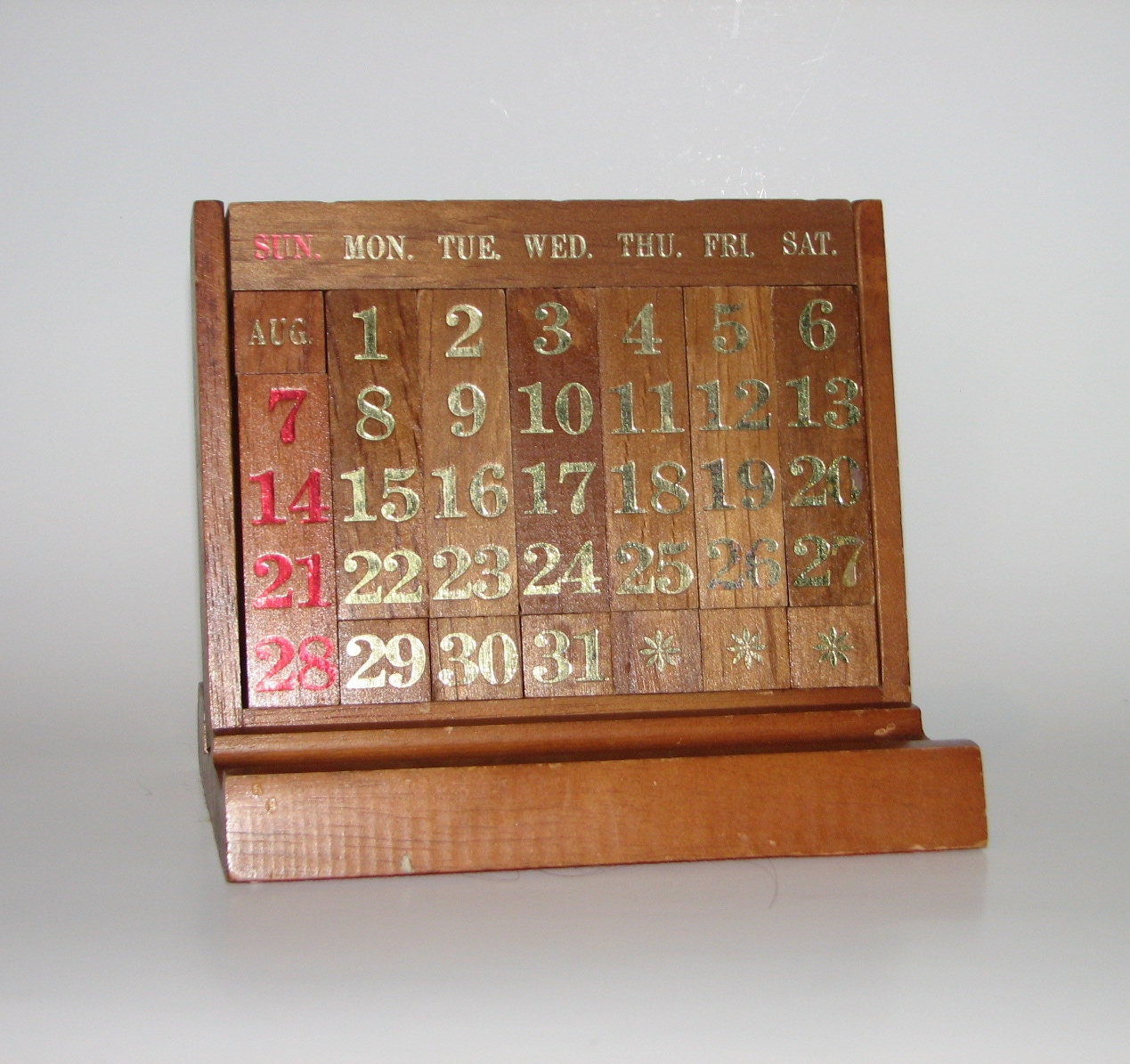 How rad is this Vintage Mid-Century Office Calender from 256Eclectica!?  Obviously it would be difficult use any regular vintage calender, considering they're paper and none of the dates would make sense!, but this one can be used for any year at any time! Just move the days, months and numbers around and POOF, you have a one-of-a-kind eco-friendly calender to fit any season! And oh how I love the fact that it's solid wood!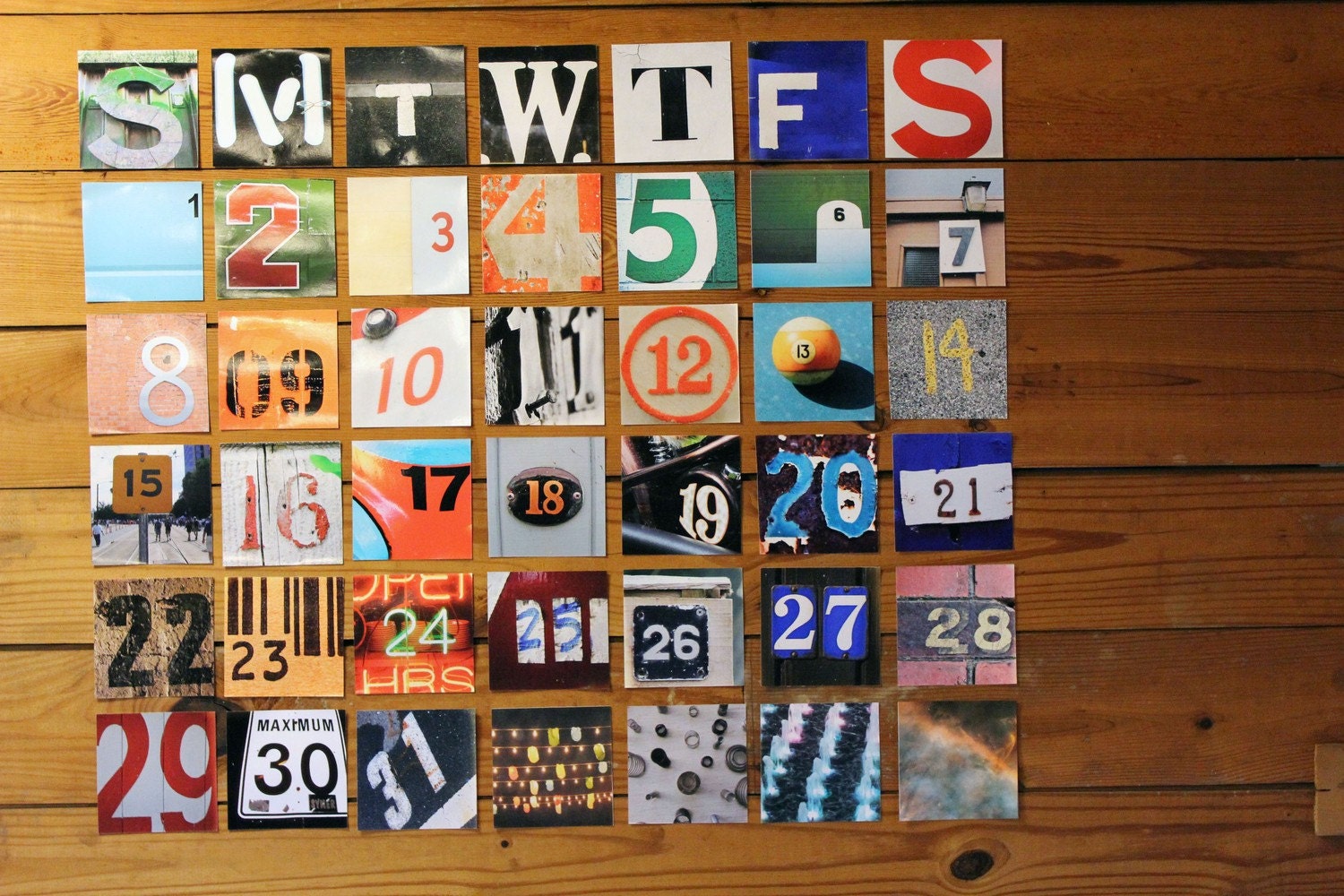 I am always on the look out for unique takes on the everyday.  So, when I stumbled across this artistic cubed paper calender I was elated! I thought, what an interesting, creative and unconventional take on an item we usually don't think twice about. Sure, we glance at it every now and again to make sure that we are keeping our schedule on the right track or to remind us that yes, unfortunately, we are only half way through the work week.  But, why not spice it up? Why not bring art into our everyday life? Besides, it's fun! And just think how much your co-workers or buddies would be impressed with your new Wall Art Calender from ManyMugs!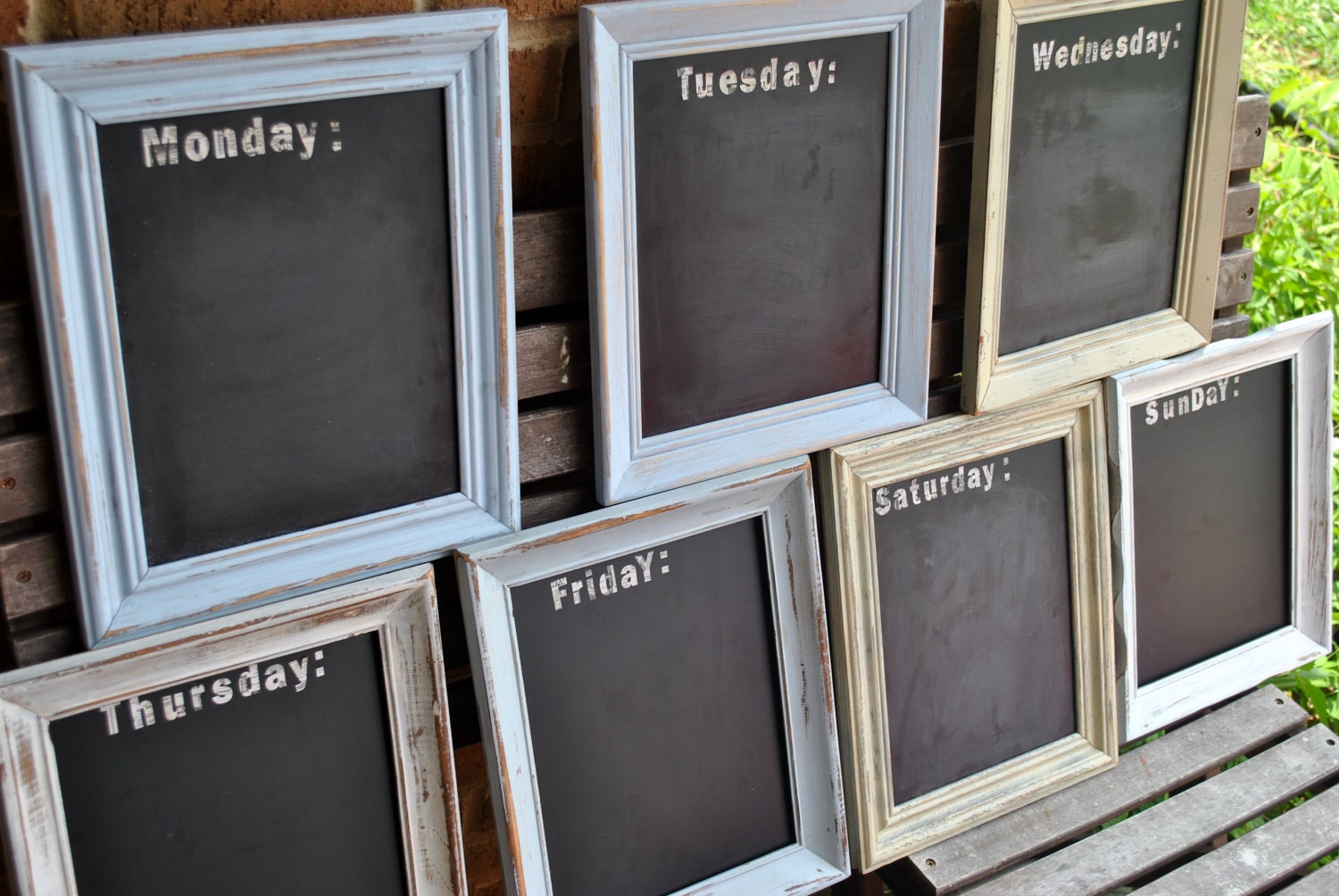 Who doesn't love chalkboards and the thought of buying colorful chalks to scribble on them with! Doesn't it just remind you of when you were a kid and the teacher let you play on her MASSIVE chalkboard?!  Well, that's what I think of! And besides, they're totally re-usable and super eco-friendly! What the seller says: I made this set of 7 chalkboards by painting, distressing and staining vintage wood frames! They have been repurposed into chalkboards and have the days of the weeks written on them in a newspaper pattern lettering. This awesome set is great for staying organized and adding style at the same time! Check out these refurbished Framed Chalkboards from Lilson!

Ok, so you might not know this about me, but I'm kind of obsessed with owls!  I think it has to do with the fact that they have a retro 70s vibe to them and really, they're just adorable on anything.  Especially on this cute 2012 Handmade Owl Calender from 29BlackStreet! These 12 owls are actually made up of collages and are printed on heavy card stock, so even after you're done with them, they would make an adorable piece of wall art!  Just cut off the month portion, or not!, and hang in rustic frame! Voila! Affordable Art!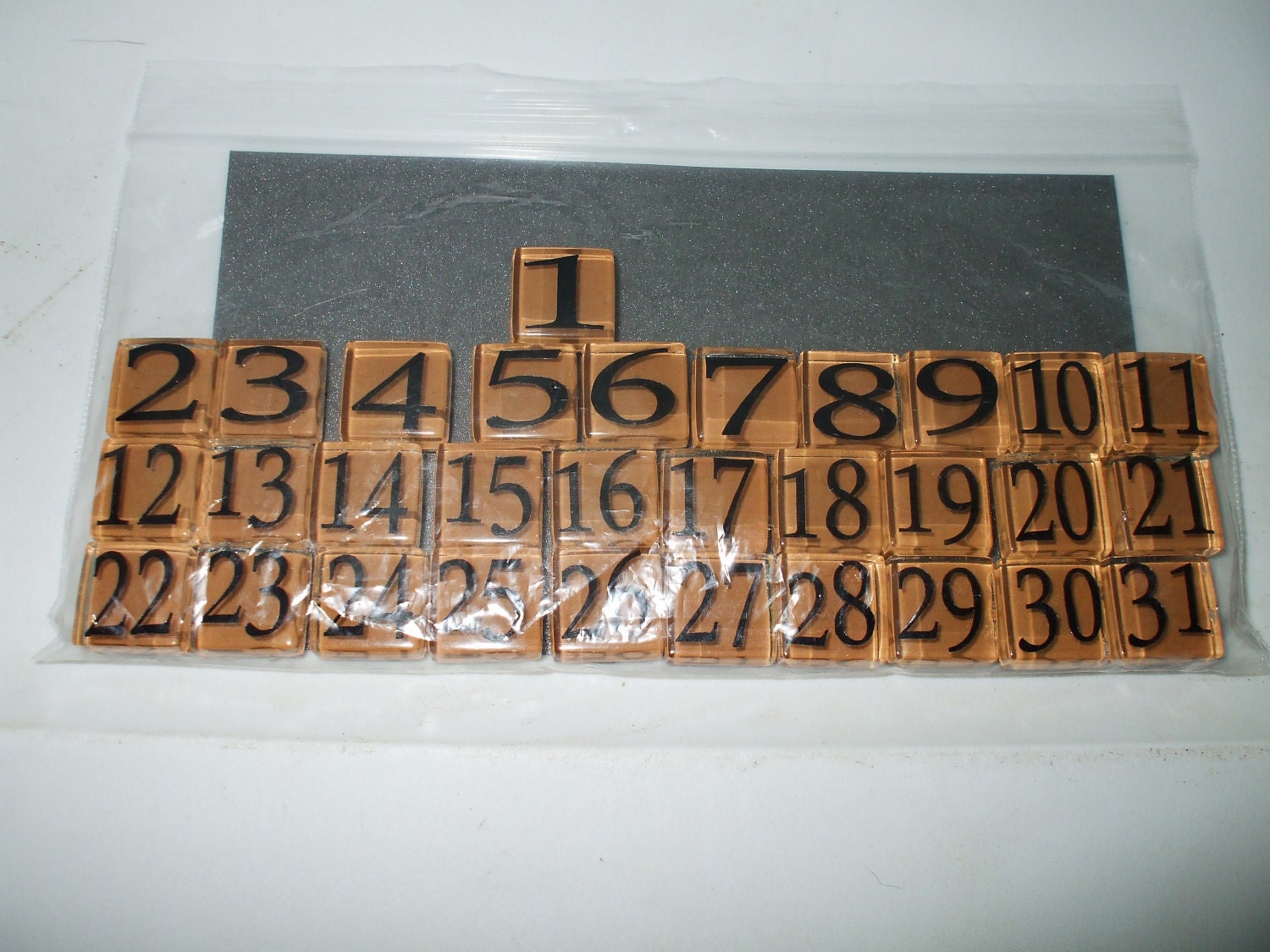 Ever have those colorful alphabet magnets you had on your refrigerator as a kid? You know, those one's you made funny incomplete sentences with? Well, imagine having fun magnets again, but in the form a calender!  StyleCrafts Amber Glass Magnetic Numbers can be used on a white board, chalkboard or anything with a magnetic surface.  Sure, you might have to write the month yourself, but how much fun would it be to create something every month!  Besides, I'm sure you can dig up those color kid magnets and be creative!
Here is where I am getting married | Magnolia Plantation