Before you step out for what I am sure is a busy day during your work week, you remember key accessories to go with your outfit. Am I right?  You take your scarf, your hat, your gloves and if need be, your umbrella.  And before throwing on your vintage wool pea coat you study your ensemble one last time in your full length mirror (which for some reason is still leaning against the wall) to double check your stylistic choices.  Earrings? Check.  Favorite long necklace? Check.  Strategically placed vintage rings? Check.  Vintage Brooch? Check.  And last but not least, your mom's Navajo bracelet that she passed down to you? Check, check.  All is in place and you're ready, finally.  And it only took you nearly an hour. Or in some cases, two. (I have had those two hour days, my friends.  I admit it.)
Here's my point: If we spend all this time on accessorizing ourselves, why not take a little more time out and accessorize our accessories? Confused? I know, I used "accessories" way to many times in once sentence.  What I mean to say is that our devices, our "stuff" (phones, cameras, books…etc) deserves just as much attention as our outfits acquire.  Are they not an extension of our personality?  You see it with school kids all the time.  You know what interest them in one glace.  Harry Potter, Disney, Dora.  They wear it not only head to toe, but their book bags, pencils, shoelaces and trapper keepers are covered in their favorite characters.  So, why should we not daine to do the same? We should have just as much fun and put just as much personality into the extensions of ourselves as possible.
Take your cell phone for example.  How much fun would it be to find a cover that expressed who you were as a person? Are you quirky, spontaneous or a little dangerous even?  Do you like animals, bikes or butterflies?  You'll be amazed how much fun you will have searching one out. Not to mention you'll have the cutest phone in town! Check out some adorable options I found to dressing up my favorite digital accessory…my Iphone4!


Talk about adorable! I love the color and print on this Handmade Phone/Ipod/Whatever Case from Luminaceous.  Such a childlike pattern that reminds me of running through fields whilst picking dandelions and sunflowers.  Ah, those summer days when we were once young…..REALITY CHECK…..Lets bring it back to the NOW! Check out what the seller says: This case is hand made of an amazing, all natural cotton/linen fabric by designer Heather Ross, lined with soft soft fleece, which also CLEANS your screen, and reinforced with interfacing. The linen is strong and wears beautifully, getting even softer to the touch with use.  Yes, even when it comes to my phone case, I want quality!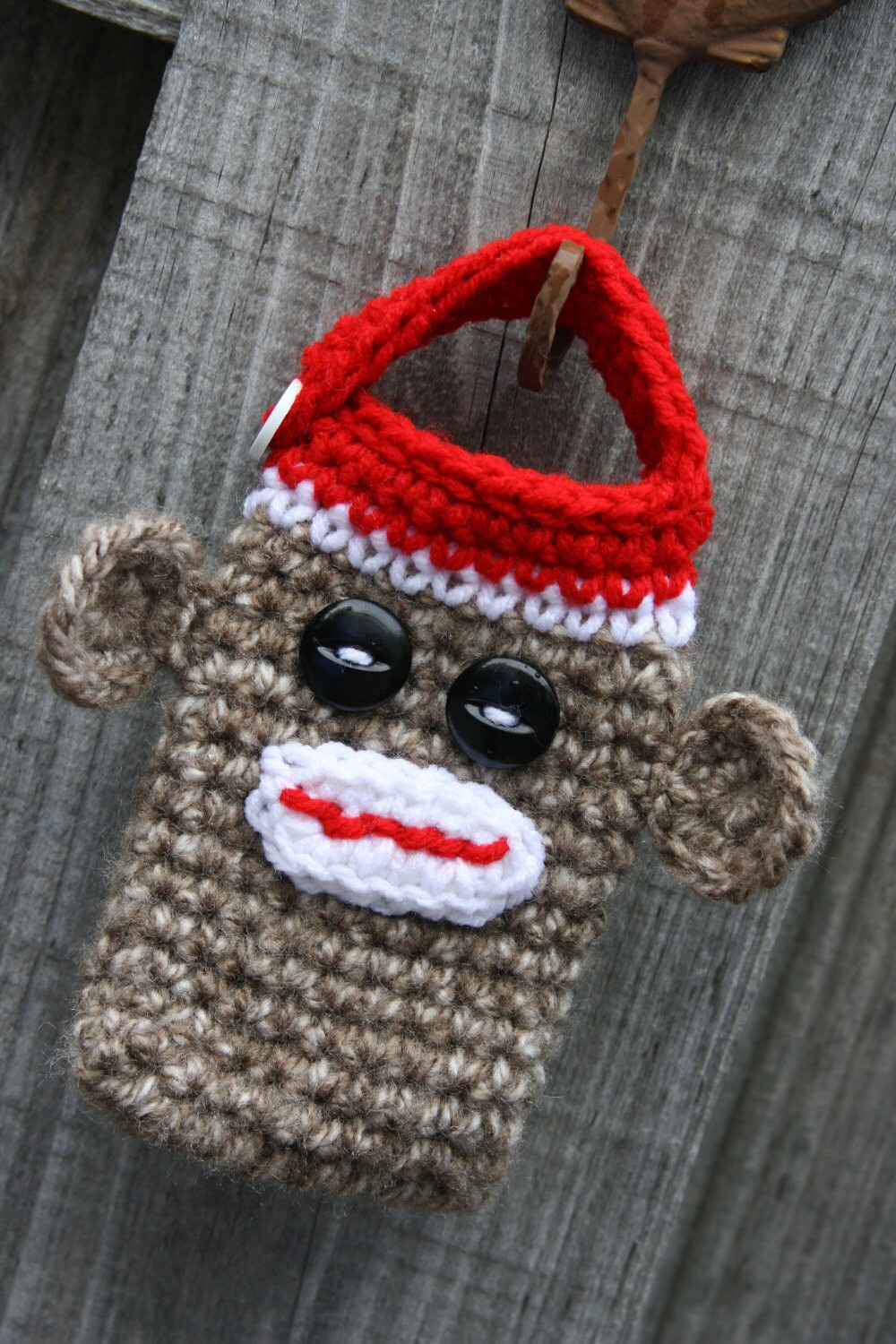 If you haven't already figured this out about me, next to my owl obsession is my overwhelming affinity with the Sock Monkey! Yes, the Sock Monkey.  Literally a sock with a monkey on it! It's just so adorable! And lately I've been finding my little friend being made into my favorite accessories.  Just last post he was made into a pair of mittens and lord knows that I'm going to be going after that one! So, you can imagine how ridiculously giddy I was when I stumbled across this Handmade Sock Monkey CELL PHONE holder from LoopedWithLove4U.  It's beyond my friends.  Just look at those cute little ears, those beady eyes staring at you, a slight smile apparent in their gleam and the adorable purse like red handle.  What's not to love about this hand stitched monkey? I'm sold!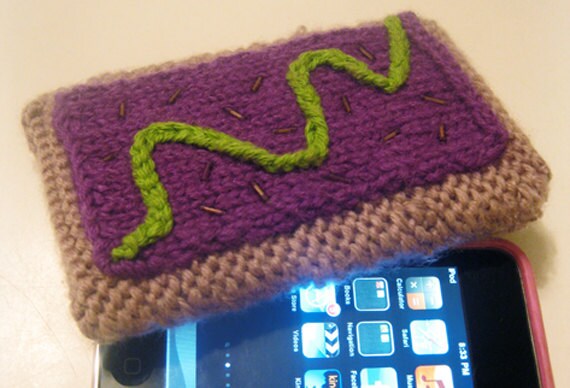 Ummmm….who doesn't love a good PopTart every once in a while?  I actually had one this morning! Cinnamon bun if I'm not mistaken.  But, unfortunately I can't eat this delicious looking PopTart Phone Case from PurlTarts.  Hand knit to resemble your favorite tart don't be surprised if someone tries to grab it out of your hand for a bite!  Multiple favors available.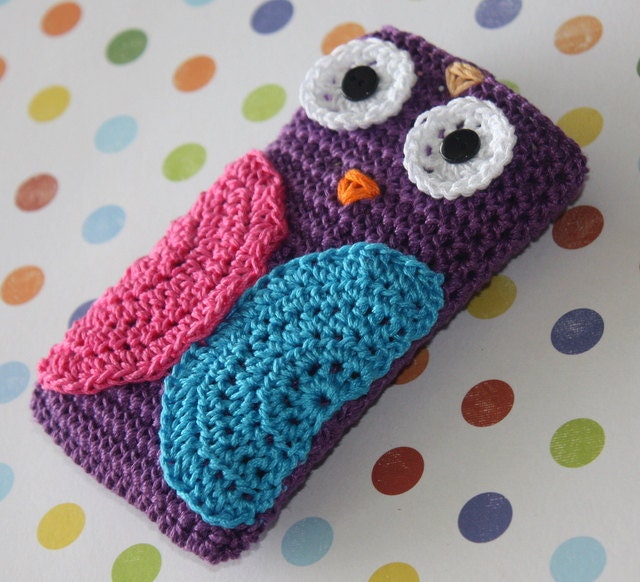 I'm sure you can guess why I picked this adorable Owl Cell Phone Cover from KylieB.  If you guessed it's because owls are one of my favorite animal accessories, then you've earned yourself a gold star!! But, I also happen to adore this particular owl accessory because of its bright color combos.  I am a purple enthusiast and if I didn't have a rational Fiance I would have painted every wall in my house purple; along with assuring that every fork, spoon and knife were shades of my fave color! Plus. those wide white eyes are enough to melt my little ole' heart.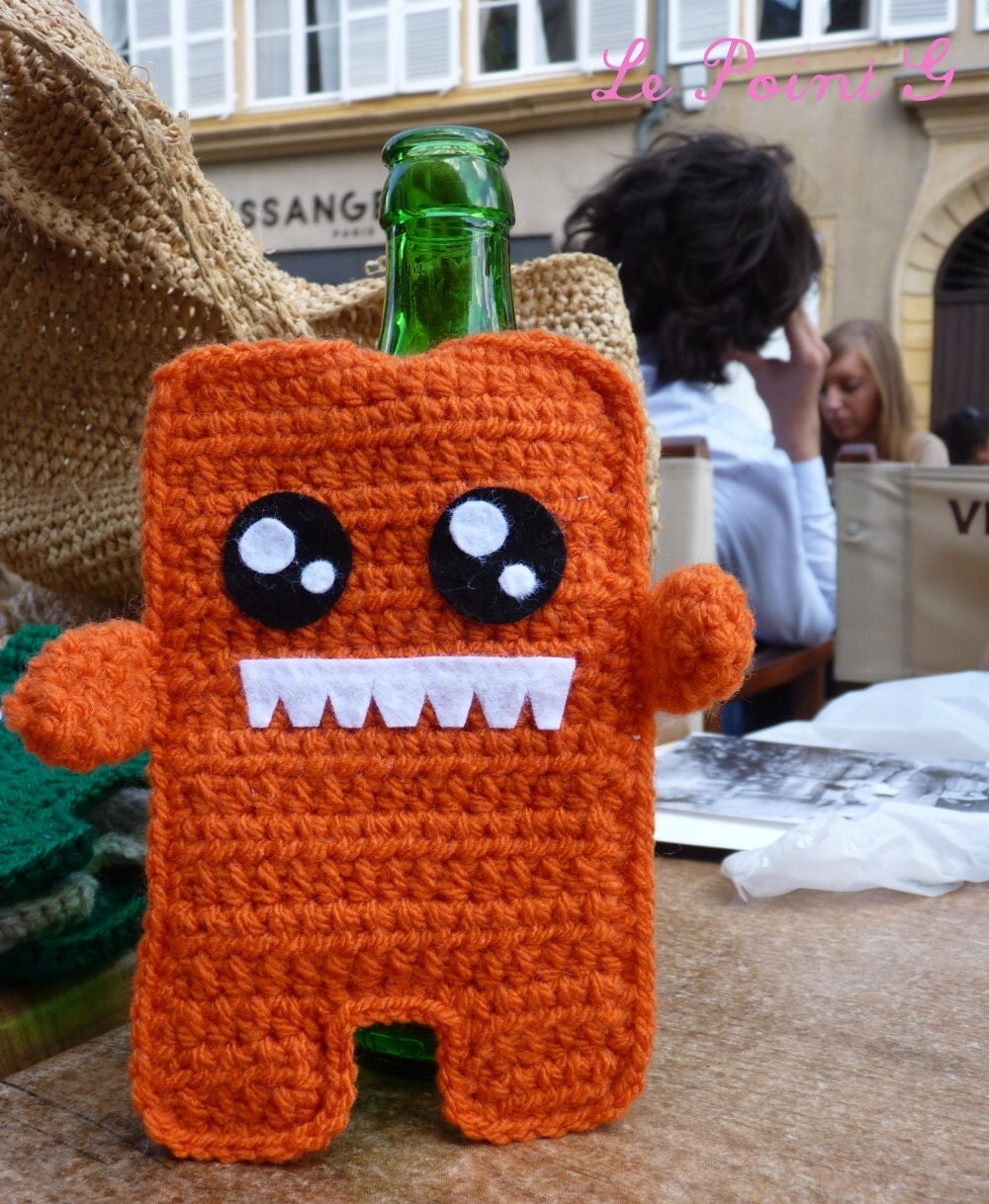 Monsters! Run! Hehe….Just kidding! It's only a Monster Cell Phone Case from GSpotDesign! The only scary about this little guy is how scary cute he is! Big sparkling eyes, funny little mouth and those arms, oh those arms! Their just reaching out to you! They're saying, "Buy me! Love me!"  How could you deny this little monster's wish to help shelter that Droid of yours?  You know his little hand knit wool body would keep your social plug nice and warm while ensuring optimal comfortability. Doesn't your Iphone deserve the best?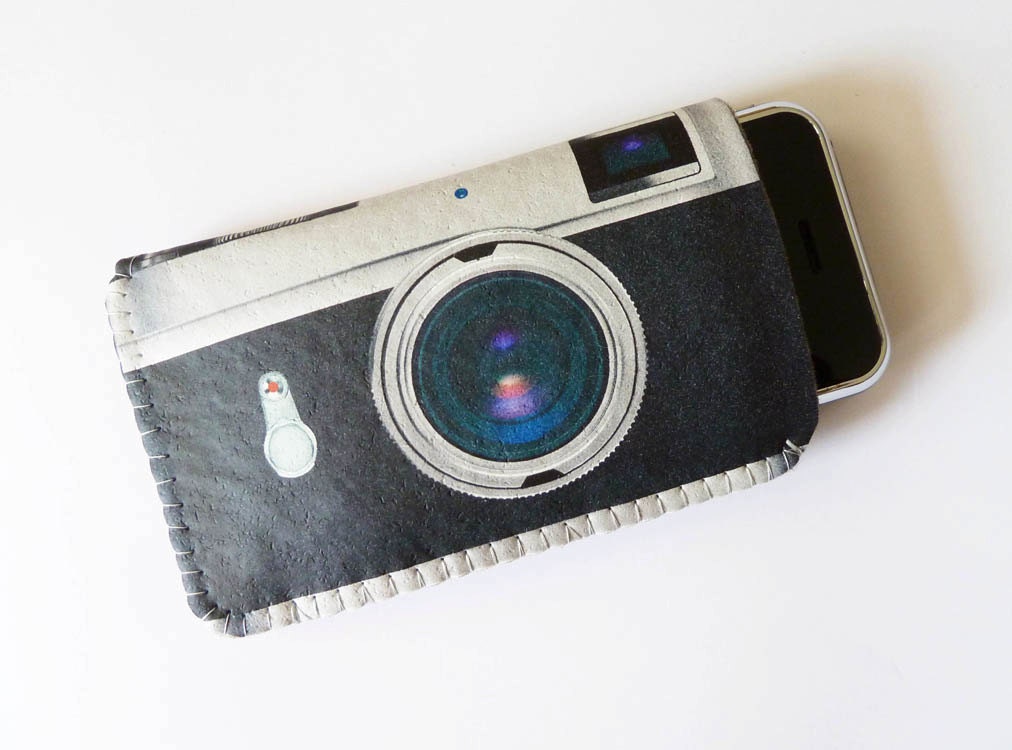 I LOVE photography and am always on the search for beautiful pictures.  I try to take them if I can, but sometimes it's hit or miss! Then again, I am still learning.  But, as a camera lover you can see why I would be taken with this Retro Camera Phone Case from CrankCases.  It actually reminds me of an old school point and shoot that your mom would take out at every single family event.  Or when you and your friends would have sleepovers and take silly pictures of each other.  So I guess that my adoration of this case comes from an emotional bond, but  I have to say that I just think it's really cute too! What the seller says: Made from very durable, long-lasting and scratch-free felt with a thin fade-resistant coating on top it has a unique style and will last a lot longer than an ordinary felt case. Good to know, huh?