Usually when I find the base inspiration for my vintage outfit creations I know exactly what I want to do with them.  But, when I stumbled across this amazing 1950/60's wiggle dress I was completely stumped. One side of my brain was screaming PUNK! while the other CLASSY! This dress is so versatile (as you will come to find out!) and to state it plainly, presents to many styling options! Which is great when you think about it.  Buy one dress, get multiple outfits! So, going with that, I decided not to torture myself any longer and do both Punk and Classy.  And, as you can see, I had so much fun! Check out what I came up with:
(What would you do with this dress?)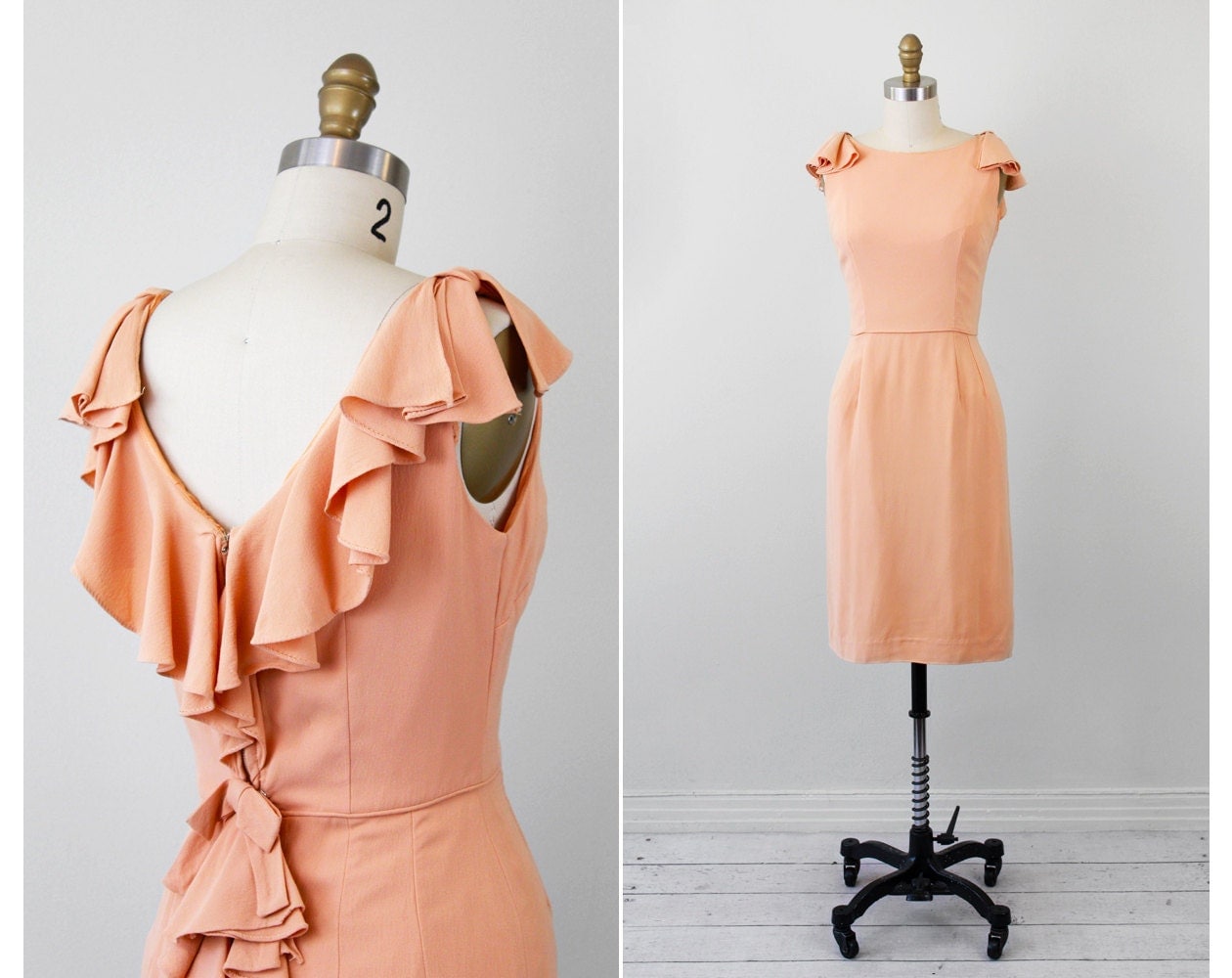 I am absolutely in LOVE with this 50's/60's Vintage Peach Cocktail Dress from RococoVintage!  It's so amazingly unusual!  Clean, simple lines with an adorable cap sleeve in front and then in back, a dramatic plunging back with dramatic waterfall ruffles. This dress will elicit stares of lust and longing wherever you tread! Perfect for upscale cocktail parties, for weddings, for romantic (and sultry) evenings out, or for any other especially special event. Unique, daring, and truly darling all at once!

I am ALWAYS on the search for a pair of good Roper Boots.  Especially ones that are actually in my size! Which, is extremely hard.  There are plenty of 9's, 10's, even 8's, but when it comes to 7/7.5 FORGET IT! It's like finding a needle in a haystack! HOWEVER, last night I got lucky when I stumbled on these 7 1/2 Classic Vintage Black Roper Boots from GrannysBootery (Love that shop name!). It's the small things that make my heart flutter! These no fuss, straight up plain old roper boots are what I consider a "wardrobe essential." Tim Gunn would probably argue with me, but these would be my staple and I would wear them with EVERYTHING. In great condition, you're search (or mine if you're not quick!) is over if you're on the look for one of these beauties!
Favorite feature on this Vintage Elastic Belt from LarkVintage? The butterfly clasp! It's so adorable and unique. Usually when I am looking for belts on Etsy, especially black ones, I get a lot of studded leather belts or woven belts, which I love, but I was looking for a belt that was different and not indicative of the accessories I usually feature with outfits.  And that's exactly what I thought when I saw this vintage beauty. It's charming, eclectic and actually puts a smile on your face when you see it.  It could go punk or classy and you don't have to worry about it wearing down because it is elastic! Now that I think about it, I have a friend who LOVES butterflies and she would be head over heels over this!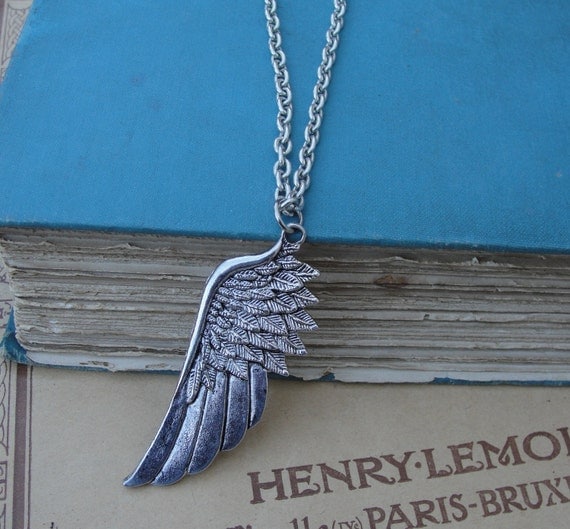 Besides my love of owls, antique keys and Polaroids, I adore long chain necklaces with wing pendants.  I know, it sounds odd and I can't explain, I just know I love it.  Although, now that I think about it, it might have something to do with the fact that I loved studying Ancient Roman/Greek history and their mythology in school and when I see wings I always associate it with Pegasus….. Ok, that was probably more information than you ever needed to know about me and why I love wing necklaces! More about the actual necklace: It is a Silver Angel Wing Long Chain Pendant by ZaraTaylor, a jewelry maker on Etsy (who I will be doing an interview with and posting soon!).  It comes with no clasp as it is long enough to go over your head, which I prefer! It just makes it easier when you're getting dressed! Perfect for any boho or rocker outfit!

1940s + Suede + Pumps = Vintage Treasure.  That would be the best word to describe these leather soled Vintage 1940s Pumps in buttery soft chocolate brown suede from RococoVintage. An absolute Treasure.  The seller describes them better than I can! Here's what she says: This classic pair of pumps from the 1940s are just breathtaking — they are some of the most perfect shoes from this era that I have ever seen! In a deliciously rich shade of chocolate brown, these shoes will provide the finishing touch to a whole variety of outfits, while the metal taps on the heels will create the most satisfyingly audible sound as you walk and dance! Absolutely wonderful, and in just shy of pristine condition! This beautiful designer shoes were made over 60 years ago and are in phenomenal condition — they are truly a treasure and very rare!!

So, I had to go Handmade on this belt.  I was looking for something super specific because I knew I wanted a bow belt to tie together an adorable outfit perfect for work or a classy night out.  This Soft Leather Bow by ManoBello fit that bill.  It's simple, easy and versatile.  It's not to "kidish" and won't make your perfectly pink ensemble match your 5 year old niece's favorite dress! And it's not so obnoxious that it takes away from the outfit.  It's just right.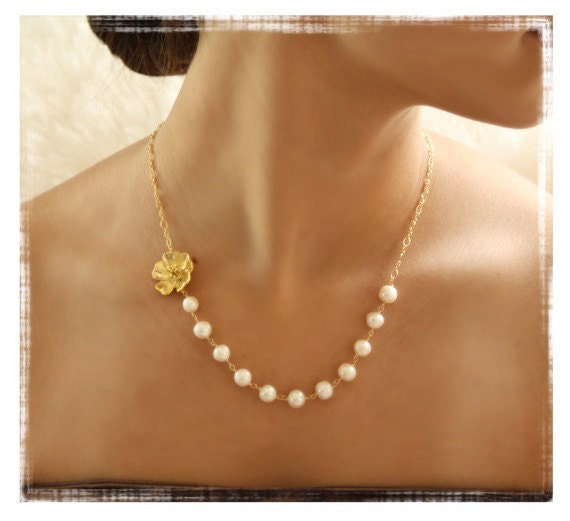 This Freshwater Pearl Necklace by VirginiaGeigerJewels is labeled as a "Wedding Necklace," BUT I think they can be worn with either your new "Pretty in Pink" outfit or any one of your fun, girly ensembles.  I appreciate the spaces between the pearls, giving it a lighter, more romantic appearance rather than the heavy or bulky look that sometimes full pearl necklaces can have.  And the small gold leaf just adds to the charm of the handmade necklace.  Here's what the seller says: This lovely golden flower pendant is wire wrapped off center with large freshwater pearls and is completed with a delicate gold fill chain. Also available is silver!